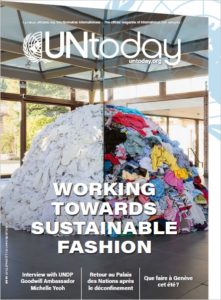 The July-August issue of UN Today, Geneva's staff magazine, is now out.
Highlights this month include:
How the UN can support sustainable fashion, including an interview with Michele Yeoh (actress and goodwill ambassador) and what you can do to adjust your consumption habits.
How UNOG staff pioneered contact-tracing in Switzerland.
A compelling story of how one staff member made it to the UN in Geneva all the way from Congo.
With many borders still closed, ideas on how to spend the summer in the Geneva countryside and Annecy.
UN Today is your magazine. Please contact us at admin@untoday.org if you would like to contribute an article that would be of interest to staff for our next issue.
We hope you enjoy reading the magazine on our now more user-friendly website.
---
Le numéro de juillet-août du magazine du personnel à Genève, UN Today, est désormais disponible.
Ce numéro met en lumière :
La manière avec laquelle les Nations unies peuvent soutenir la mode durable, avec un entretien avec Michelle Yeoh (actrice et ambassadrice de bonne volonté) et ce que vous pouvez faire pour adapter vos habitudes de consommation.
Le rôle pionnier joué par le personnel de l'ONUG en matière de suivi des patients atteints de COVID-19.
L'histoire fascinante sur la façon dont un membre du personnel est arrivé à l'ONUG depuis le Congo.
Des idées pour passer l'été dans la campagne genevoise et à Annecy, avec de nombreuses frontières encore fermées.
UN Today est votre magazine. Si vous souhaitez contribuer au prochain numéro en rédigeant un article intéressant la communauté de l'ONU à Genève, n'hésitez pas à nous contacter à l'adresse suivante : admin@untoday.org.
Nous espérons que vous allez prendre plaisir à lire ce numéro du magazine, qui s'est récemment doté d'une nouveau site web plus facile à naviguer.