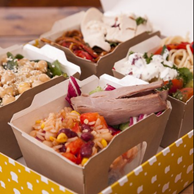 As you start your return to the office, SAFI is here to welcome you as always with an increased range of fresh sandwiches, salads, cheese and charcuterie selections to complement the limited catering provision in the Palais. This is in addition to our popular range of beverages, cosmetics, gifts, clothing, timekeeping and other products.
We have also started a delivery service. Please call 022 917 25 93 or email commandes@safi.ch quoting the product reference. Please note that a website is on its way to allow online ordering. 
And our shop is also open as usual for you to come by: from 12 noon to 6.30 p.m., Monday to Friday as of 8 June. Find us as usual at Door 2.
We look forward to seeing you soon! The SAFI Board
---
Comme le retour au bureau va désormais être possible, le SAFI est là pour vous accueillir comme d'habitude avec une gamme de sandwiches frais, de salades, de fromages et de charcuteries pour compléter l'offre de restauration qui sera limitée au Palais. Cette offre vient s'ajouter à la gamme de boissons, de cosmétiques, de cadeaux, de vêtements, de montres et d'autres produits.
Nous avons également mis en place un service de livraison. Si vous souhaitez vous faire livrer, vous êtes prié d'appeler le 022 917 25 93, ou d'envoyer un courriel à : commandes@safi.ch, en citant la référence du produit. Veuillez noter qu'un site web est en cours d'élaboration pour vous permettre de passer vos commandes en ligne.
Et notre magasin est également ouvert comme d'habitude pour que vous puissiez passer : de midi à 18h30, du lundi au vendredi à partir du 8 juin. Retrouvez-nous comme d'habitude à la porte 2.
Nous espérons vous voir bientôt !
Le Conseil d'administration du SAFI