We regret to inform you that Eldora, the company which manages the catering outlets in the Palais and its annexes, has decided to terminate the contracts of nine of its staff. It has blamed the decision on the business impact of the pandemic.
These unique colleagues brightened our days over the years, and through their personalities and kindness brought a special atmosphere to the Palais. They certainly deserve our gratitude for their many years of service.
For this reason we are organizing a collection, to be converted into Migros and Coop gift vouchers and shared equally between them (we will contact Eldora administration to arrange this). We have also created an online message book which we encourage you to fill in.
The details are as follows:
By bank account transfer:
Beneficiary: Conseil de Coordination du Personnel ONUG. Palais des Nations, 1211, Genève 10
Account name: Relief Fund
Bank: UBS
IBAN: CH37 0027 9279 HU16 5681 1
Account number: 279 – HU165681.1
Via Twint: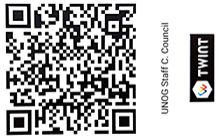 While this news is both sad and disappointing, we will be conveying to Eldora our concerns about the situation and our hope that affected colleagues are first in line to be rehired when the Palais properly re-opens.
---
Nous avons le regret de vous informer qu'Eldora, l'entreprise qui gère les points de restauration du Palais et de ses annexes, a décidé de mettre fin aux contrats de neuf de ses collaborateurs. Cette décision est imputée à l'impact de la pandémie sur les entreprises.
Les employés affectés par cette décision ont contribué pendant longtemps à égayer nos journées avec leur bonne humeur et amabilité et nous leur devons un remerciement chaleureux pour toutes ces années de service dévoué.
C'est pour cela, nous aimerions organiser une collecte afin de leur offrir des cartes cadeaux (de chez Migros et Coop) et les partager à part égale entre eux. Nous prendrons contact avec l'administration d'Eldora pour ce faire. Nous avons également créé un livre d'or en ligne que nous vous encourageons à signer.
Pour contribuer, vous pouvez utiliser les coordonnées bancaires ci-dessous:
Par virement bancaire :
Bénéficiaire : Conseil de Coordination du Personnel ONUG. Palais des Nations, 1211, Genève 10
Nom du compte : Relief Fund
Banque : UBS
IBAN : CH37 0027 9279 HU16 5681 1
Numéro de compte : 279 – HU165681.1
Via Twint: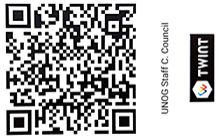 Bien que cette nouvelle soit à la fois triste et décevante, nous ferons part à Eldora de nos préoccupations concernant la situation et de notre souhait de voir les collègues affectés être les premiers réembauchés lorsque le Palais reprendra ses activités normales.